Multimedia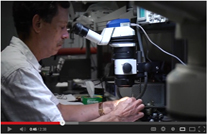 Anechoic Chamber puts sound to the test.
Discovery Center Flight Simulator Senior Design Project.
---
Mechanical Engineering seniors build a baja vehicle.
---
Engineering and Science Building tour and panoramas.
From designing to fabricating  – Mechanical Engineers do it all
Just what comes to mind when you think of mechanical engineers? Are they people who design appliances – or people who design airplanes? Or both?
Mechanical engineers really do it all, designing and making nearly everything you can imagine. They design and analyze manufacturing plants, industrial equipment and machinery, heating and cooling systems, motor vehicles, aircraft, watercraft, robotics, medical devices and more. And at the Watson School, we'll teach you about the how and why, as well as help you learn to design and fabricate the products that will affect your life and the lives of everyone around you.
So, whether or not you tinkered with the toaster in your younger days - and whether or not you could put it back together without having parts left over - we'll teach you the fundamentals of mechanical engineering, including computer-aided design, give you hands-on experience and prepare you for whatever path you wish to take in the mechanical engineering field.
Our Mechanical Engineering program is accredited by the Engineering Accreditation Commission (EAC) of ABET.
ME News
Student Aims to Cool Computer Chips. Siyi Zhou spires to improve the way electronics and even spacecraft function with her research. More information can be found here.
The 30th Annual Flight and Ground Vehicle Simulation Course. This unique five-day program is co-sponsored by Binghamton University and the American Institute of Aeronautics and Astronautics Modeling and Simulation Technical Committee. More information can be found here.
The 2013 Electronics Packaging Symposium and 2.5D/3D Workshop.  More information can be found here.
Craig Coon '10, MS '12, finished 28th in the Boston Marathon and has a job lined up with Knolls Atomic Power Laboratory. | More.
ME has moved to a new research building!
Follow the Watson School on Facebook